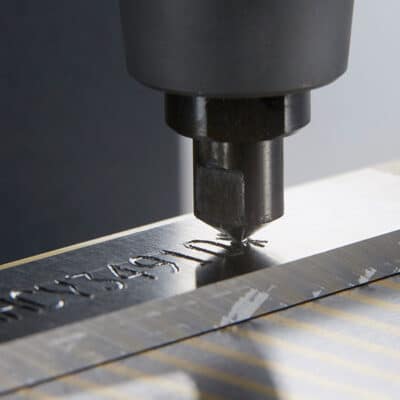 Electric Z Axis (EZ)
Upgrade your BenchScribe or BenchDot Deep Pneumatic with a motor driven Z-axis for increased accuracy and operator ease.
The EZ upgrade is available with a new machine and is also available as a retrofit kit
The standard BenchScribe and BenchDot Deep Pneumatic are supplied with manual Z-axis control which means the operator is responsible for moving the Z-axis using a manual handle. This upgrade makes the Z-axis movement part of the marking cycle so the marking head can be moved up and down as part of the marking layout. For higher volume applications this will save time and reduce the reliance on the operator.
Please note: the EZA upgrade, which includes the Autosense feature, is not compatible with the BenchScribe or the BenchDot Deep Pneumatic. The EZ option must be used with these products