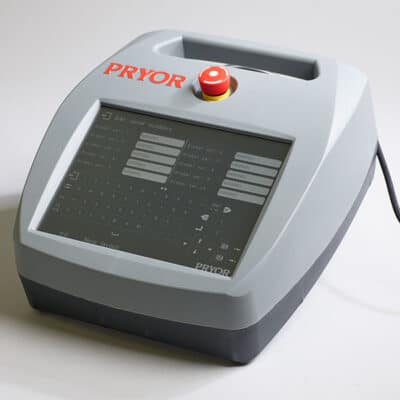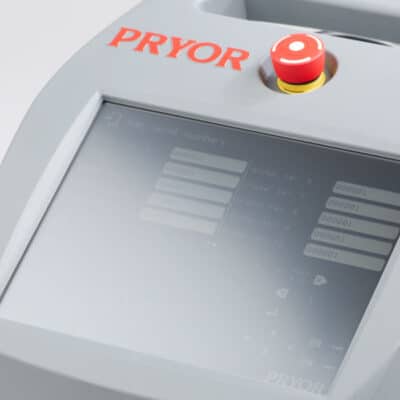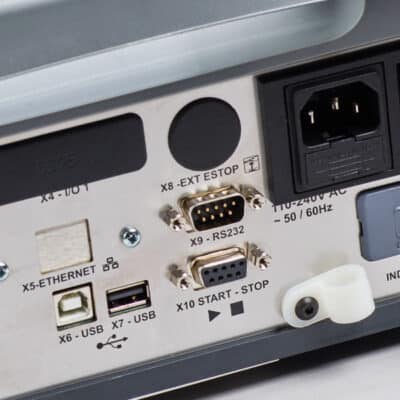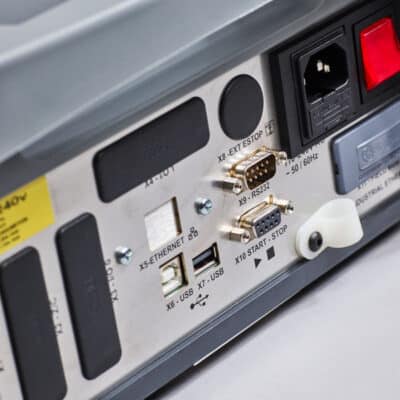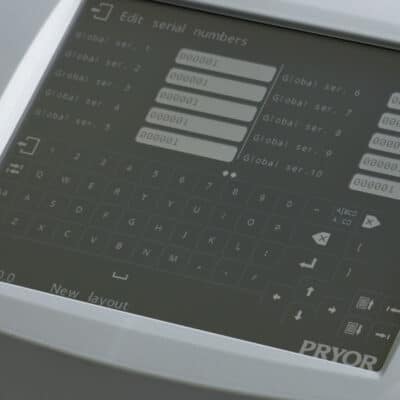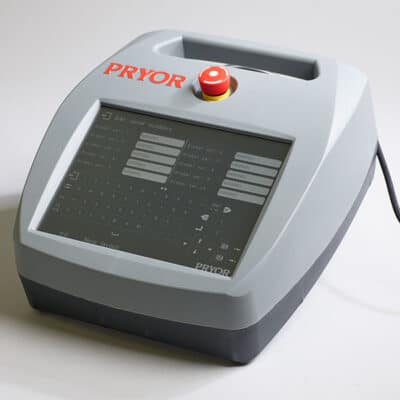 4000 Controller
The Series 4000 Embedded Controller provides an unrivalled array of features to operate marking machines, manage unique product identifiers, such as serial numbers for asset tracking, and manage user access. The controller is for use with dot and scribe marking machines, portable, benchtop and production line integration models.
Comes as standard with all dot marking and scribe marking equipment (except the P60-30 Touch)
Available to purchase separately as an upgrade for most marking machines supplied with the previous generation controller
Available as a battery powered unit for extra mobility and flexibility
Panel mounted Integrations version is available for integrators
Video
Features
Configuration by machine
Accessories
Video
Features
Resistive, 10.4" touchscreen – usable with gloves
Two axis control (X-Y marking directions), expandable to 4 Axis for Z and C axis control
USB type A, USB type B and RS232 ports, for connecting to optional USB drive, USB keyboard, PC and barcode scanners (RS232)
Firmware updates via USB drive
Integrated help animations for instant user training
110V or 230V mains power supply
Password security for all menu items
Data logging to .csv file on USB stick or internal memory
Duplicate check of last 100 marks within 1 of 5 different logs of marks
Live view of layout during jogging / drag and drop repositioning of layout
Built in emergency stop
Applications
Control of all Dot Peen and Scribe marking machines – bench mounted, portable and integrations models
Connection of marking machines to PC for use of windows-based software control
Bench-top marking machines
Portable marking machines
Logos
Logos can be drawn directly on the controller touchscreen
Pixel editor and simple line drawing tools as standard
Logos can be imported from USB stick
Saved logos now selectable from a menu list
Saved logos now have on-screen preview
Customisable Operator Interface
Bespoke graphics or visual instructions can be designed and implemented
On-screen controls for system features
Clear, graphical instructions
Input options can be limited for simple operator instructions
Customisable password protection
USB Memory Stick Interface
Transfer individual layouts to/from the controller
Complete layout and configuration backup and restore
Firmware updates
Data logging of all marks made to .csv file
Mark data from an excel csv file. Lookup mode or sequential mode.
Logo importing from files
On Screen Operator Instructions
Customisable operator instructions can be saved as part of a layout and shown on screen whenever that layout is to be marked.
Trial Run Screen
Layout can simply be dragged around the screen to a new location
Machine responds in real time to edits
Corner to corner outline of mark allows easier checking if the machine is aligned at each extremity
Incremental jogging of mark dimensions and orientation
Communication Options
Ethernet TCP/IP (Socket communications)
Profinet
Profibus
Ethernet/IP
DeviceNet
EtherCAT
Integrates to SQL server
Fully integrates to Pryor PC based software package for data logging, duplicate checking and data reporting
Password Protection
Various Password protection options.
Each password can be applied to each menu option individually to restrict access
User groups with different access levels

Each user group can be given access to every menu option individually
Users then have own passwords and are assigned to one of the user groups
e.g. Admin has full control, Supervisors can edit settings and layouts, operators can only load and mark layouts

Full integration to Pryor PC based software for database management of password controls and access levels
I/O Management
Improved I/O control screens
Full view of all 32 input and 24 output status in 1 screen (if 4 I/O cards installed on integrator version)
Detail view of each I/O card
Screen showing indicators for status of each input / output
On-screen toggling of each input
Inputs / outputs can be named for easy identification
Easy checking if data is being sent / received
Configuration by machine

Accessories