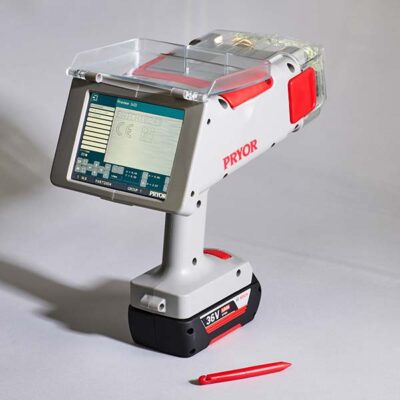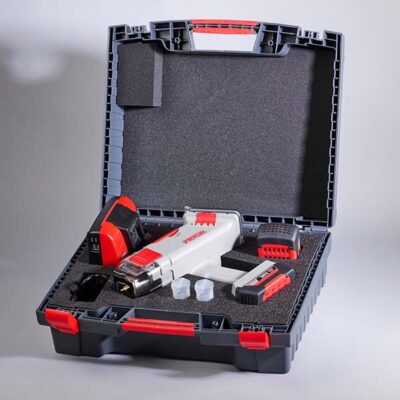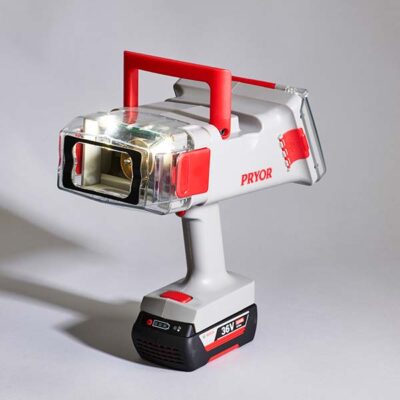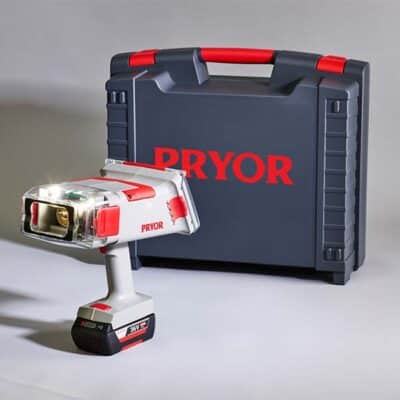 PortaDot 60-30 Touch
We are very proud of our NEW all-in-one portable dot peen marking machine, The PortaDot 60-30 Touch. The first marking machine to feature our new 4000 integrated control system.
The PortaDot 60-30 Touch is an extremely versatile, lightweight and mobile handheld & portable dot peen marking machine with a marking window of 60mm x 30mm. It is powered by a Bosch 36V battery for 'all day' use and features patented technology to ensure that the marking force does not deteriorate as the battery power depletes. The new integrated control system is based on our 4000 Series Controller and has many of the same functions and features, all packaged within the marking head for ultimately mobility. Marking programmes can be created, edited, and saved directly to the marking machine using the 5.7 inch touch screen display so that they can then easily be loaded the next time that programme is required.
It provides a fast, convenient method of marking a huge variety of parts in multiple locations.
PortaDot 60-30 Touch Key Features
All-in-one marking solution with touchscreen control
Uses Pryor's latest embedded control system integrated into the marking head
All marking data backed up to internal storage with an option to export via USB
Touchscreen protector and stylus supplied as standard
The standard machine is supplied with:

1x Bosch 36V batteries
1x battery charge and mains charging cable (UK, USA, & EU options available)
Robust carry case for transport and storage
The PortaDot 60-30 Touch is an extremely versatile, lightweight and mobile handheld portable dot peen marking machine with a marking window of 60mm x 30mm
Features
Fully Portable, Lightweight Dot Peen Marking Machine
60mm x 30mm marking window
High Power 36V, quick changeover,  battery for deeper marking applications.
Fully programmable touch screen interface with built-in screen-protector and stylus
Suitable for engraving identification marks, logos or 2D barcode information
Can permanently mark most engineering materials up to a maximum hardness of 62Hrc
Standard Character Sizes: 0.19mm – 59.9mm in increments of 0.19mm (5×7 font) or 0.25mm (7×9 font)
Dimensions: 295mm(H) x 170mm (W) x 303mm (L)
Weight: Marking head/battery: 3.7kg
Drive Mechanism: XY precision lead screws
Adjustable face mask with horizontal and vertical 'V' grooves for tube/pipe marking.
Dot Mark output styles: 5 x 7,7 x 9,Varidot, 2D Data Matrix, QR Code, HPGL, BMP Logos
Connectivity options: USB A (USB Flash drive, USB Keyboard), USB B (PC USB-Com Connectivity), WiFi  802.11/b/g/d/h/i/n 2.4GHz (Wireless scanners, data logging, network interfacing)
MS Excel (*.csv) marking and logging modes.
Program memory capacity: up to 9000 layouts
Integrated LED lighting with tilt activation
On screen mark preview and trial run features
Rugged carry case
High Speed Battery Charger: AC Input 50/60Hz; 100-240VAC