The World's most powerful lightweight portable dot peen marking machine.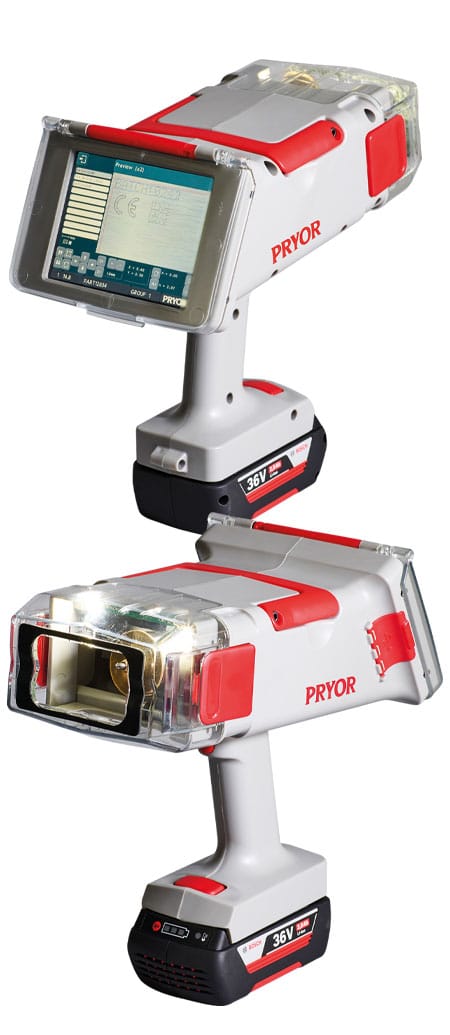 When the product / machine / large part… can't come to you, you can now go to it! with the World's first light weight fully portable, fully integrated Dot Peen marker, with on board control and TOUCH screen interface that allows you to format any mark – with the capacity to save up to 4000 different layouts.
Complete with a rechargeable battery that will last all day, in a tough workshop and travel safe case.

Enquire About Pricing



We'll send your pricing guide.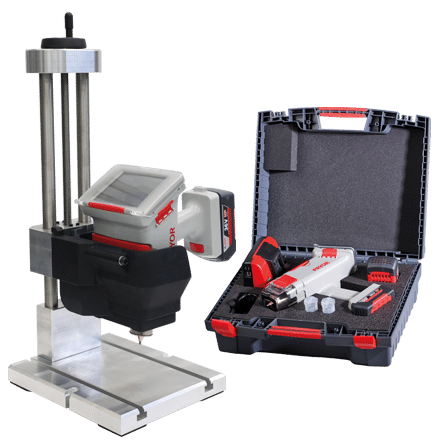 The PortaDot 60-30 Touch comes complete with a rugged carry case and a host of standard accessories to ensure you are ready for action.
• All-in-one marking solution with touchscreen control
• Uses Pryor's latest embedded control system integrated into the marking head
• All marking data backed up to internal storage with an option to export via USB
• 50mm x 90° stylus
• Spare 50mm x 120° stylus
• Bosch 36V battery
• Battery charger
• Country specific mains charging cable
• Robust carry case with precision cut foam inserts
Gear up your PortaDot 60-30 Touch portable marker
Extras available for delivery with or after you receive your PortaDot 60-30 Touch:
Additional 36V Bosch Battery
To eliminate downtime while charging.
Facemask Extender
Giving extra stability on contoured and awkward surfaces.
Bench Style Base and Column Mount
To create a wireless benchtop marking system. Ideal for marking small components and labels.